Digital Edits
Digital Edits are sent to you via a secure link, which will enable you to print off the completed edit in whichever media you wish, and to your preferred size.

The full cost for this service, which will only be asked for upon your acceptance of the completed Digital edit, starts from £20.00. A minimal deposit will be required prior to my commencing the work.
Payment by Paypal or Bank Transfer.
​
I also offer a print service up-to A3 size: The A3 size print measures 29.7cm x 42.0 cm, 11.69inches x 16.53 inches, if mounted 40.6cm x 50.8cm, 15.98 inches x 20 inches. The A4 size print measures 21.0cm x 29.7cm, 8.27inches x 11.69 inches, if mounted 30.3cm x 40.6cm, 11.93inches x 15.98 inches. The cost of printing starts from £5 plus the cost of the original edit. All printing offered uses top quality glossy photographic paper.
​
Framed Prints
All edits, once completed to your satisfaction, can be housed within a glazed frame, the most popular completed glazed and framed edit size is A4, with an overall frame size of 14 inches by 12 inches.

This service is available for the cost of £35 plus post and packaging.
Photo Reparation. I also have the capability to make repairs to damaged photographs,the cost of this service is dependent upon the amount of work required, but will only be applied once you have agreed with the repair.
​
I hope you have enjoyed looking through my portfolio of fantasy photos.
If you like my work, please consider commissioning me. Contact me to discuss your requirements.
​
​
​
​
​
​
​
​
​
​
Click The photo for full description
little_books_librarylittle_books_library
Gone Fishng
Water colours your photos, enhance, take out photo bombers, ensuring it is the picture you want to see
Gracie, little dancer
my first dance lesson
Magical Pumpkins
One Day your prince will come.
Mysterious Beauty
Snow White,
Dream your Dream
Fairy Garden
Making Fairies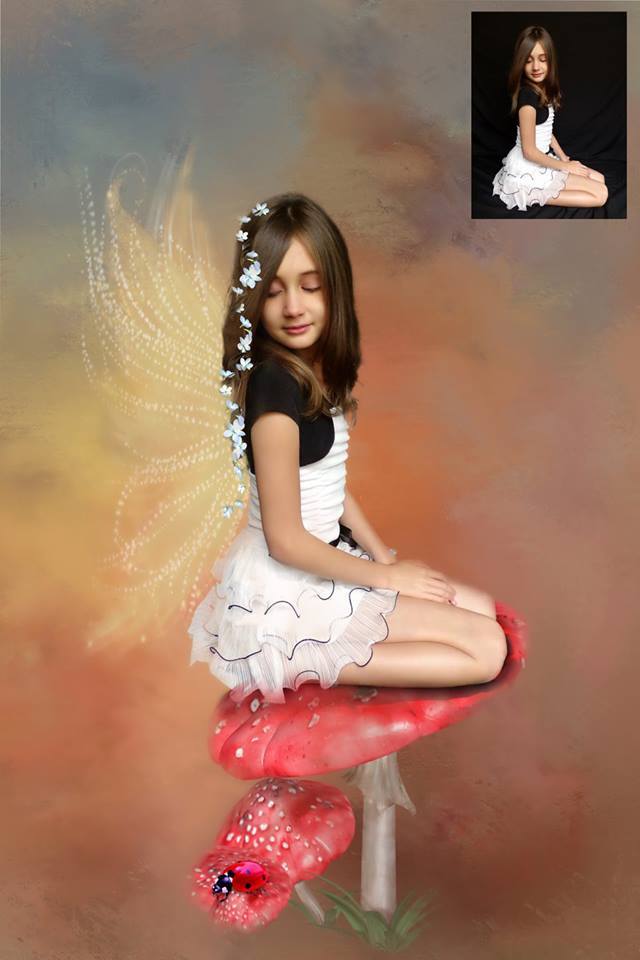 This is my seat
Fairy on a Toadstool
Pet Portraits
Dave the Bull Dog, paint effect hand rendered
Age Gap
This is my husband, 30 years apart, when he was 40years old and 70 years young.
Jump for Joy
Tell us another Story, each magical photo has Names of children/or story, making it person to you.
Vintage Santa
Santa and his Snow Globe
Bozo the French Bull Dog
Pet Portraits can be fun and personalised
Cindy St Bernard Puppy
Cindy, we had to do this whilst so small, only 3 months old, she will soon squish the books!
Unicorns and Castles,
This sweet little girl in a world of her very own.
Pugsy Malone
Pet Portraits, how do you see your pet?
Charley Cavalier
What else could Charley be but a Musketeer
Chester and Blue
Every Dog need a best friend
Village Homes
Make a gift/keepsake of your home, or just fill your walls with beautiful homes
Swan lake
Swans, made to your chosen colours
101 Dalmations, Cruella De'vil
Does your child dress up for World book Day? want to put them in character, makes a wonderful momento
A Girls best friend
Capture the moment
Girl is a bubble
Give your photos a repair and magical feel
Christmas News!
Hold the front page!! have your photo on a mock front page, names of children/family location etc. made to A4 and A3 sizes,
Love you to the Moon and Back!
Capture your loved one showing how much you are loved
How it works
After you have used the contact page I will request that you email your photo to me.
Photos emailed or scanned retain the best resolution, ensuring that the final print, photo or canvas gives the best results, should emailing or scanning be a problem, post them to me. Upon completion of the work, I will return post your photos.
Each photo is bespoke to the clients requirements.
​
​
​
​
​
​
​
​
​
​